Hey everyone!
How are you all doing? I got to say, March was a long month, but April and May flew by for me. It seemed like a short while ago since I did my April wrap-up, and for some reason it's already end of May? What is this?!!
I finished 4 books this month and began my 5th! This is great progress for me. I am more than halfway to my Goodreads goal (and 5 books ahead of schedule!!) This might mean that I will increase my goal down the line — we'll see!
I also really enjoyed the books I read this month! Usually I'm not too generous with 5-star reviews but I'm quite surprised to see how many I've given out this month.
I've geeked out SO much about the Nevermoor series, and that's because it's SOOOO good! I loved the second book, Wundersmith: The Calling of Morrigan Crow, so much. The magical setting, the characters, the story, everything!! I can't recommend this book enough! ❤️❤️❤️❤️❤️/5 stars (Check out my review here!)
The Girl Who Drank the Moon was a beautiful book that reminded me of folk tale. The lyrical writing transported me to the magical setting of the story right away. Although this was a slower-paced book, I ended up loving the theme of the story and the ending. ❤️❤️❤️❤️❤️/5 stars (Review coming soon!)
As a Chinese-Canadian, I related so much to Front Desk, which is a story about a girl who worked at the front desk of her family-owned motel. Don't let the cheerful cover fool you, this book touches on heavy topics like poverty, racism and assault… and all in a tone that works for a younger audience. ❤️❤️❤️❤️❤️/5 stars (Review coming soon!)
Usually I don't read romance, but The Kiss Quotient hooked me right away. The plot was a bit predictable but I was invested enough in the characters to keep reading. I loved that the one of the MCs was an Asian-American and one of my favourite aspects of the book was reading about his interactions with his family. ❤️❤️❤️/5 stars (Review coming soon!)
Becky Albertalli is one of my favourite YA authors so of course I had to read Yes No Maybe So! I am about 60% done and I'm enjoying the book overall. I'm loving that there are realistic characters and families in this book. There is a big focus on politics (specifically American politics) which I'm not too interested in when it comes to fiction, however I like that the book talks about important issues like racism.
My main goal this month was to finish the line-edits for my novel, Children of the Sun. I thought this was going to take a week but… I found it really hard. It was probably one of the hardest parts of writing for me.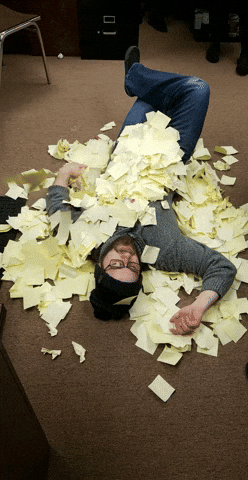 Generally I like editing. I loved doing the big-picture edits for this novel. I loved coming up with different approaches to scenes, rewriting scenes for better characterization, and even cutting out non-essential scenes. But these line-edits (which means polishing the wording, cutting out filler words, etc) were not fun for me. It made me hypercritical of my own work and lose confidence in my writing.
So all in all, that was why it took me so long!! I still have 6 more scenes left in the novel but hoping to be able to wrap it up by the end of the month.
And then it'll be time to send off my revised manuscript to my mentor!! Earlier on in April, I've run my big revisions by my mentor, but other than that she hasn't seen any of my revised manuscript. I'm definitely excited but really really nervous to hear what she has to say lol :')
May marked the 3rd year of blogging for me!!! Yup, I think I can officially say that I am a blogging dinosaur hahaha….
Everyone please send in your Q&A questions because I will be answering them soon!!! Also, make sure you join the international giveaway (I'm giving away two BookDepository prizes so you can win books of your choice!!)
Writers' Corner is back!! From now on I will be posting two (or more) Writers' Corner posts each month. Check out some of these author interviews from May: (There will be a fun and exciting line-up coming up!)
I also had the chance to catch up on some great blog posts this month!!
Things are getting better where I live. Our case numbers are decreasing and restrictions are loosening up. Over the past weeks, we had the chance to hang out with a few friends, like going on walks/runs together and playing board games. Restaurants are also reopening for dining in, although we're not in any rush to do this quite yet.
I also enjoyed a week off earlier on this month. Of course we couldn't go anywhere so we had a productive staycation at home. We did some much-needed spring cleaning and re-organized our place. It was a lot of work but felt great at the end!
How was your May? What were your favourite books? Are you able to hang out with friends or dine out where you live?
Photo by Kristine Tanne on Unsplash