Hey everyone!!
We are getting really close to November (yikes!!!) and I think I got my NaNoWriMo novel kind of planned out (maybe??) so I thought I'd share my outlining process with you guys.
First thing's first, what is NaNoWriMo?
NaNoWriMo stands for National Novel Writing Month. It is an event, occurring annually every November, in which anyone can participate. The goal is to write 50,000 words between the 1st and the 30th of November.
Thank you to Goldie @ One Day at a Time for this definition!
Pssst, Sean Fesko wrote a great guest post about outlining several weeks ago. Be sure to check this out as well! My approach to outlining is a bit different from Sean's, which is why I'm writing a separate post about this here.
Lastly before we begin, a bit of a disclaimer: I'd love to claim this as all original material, but it isn't. I've tried out several outlining processes before, including The Snowflake Method, The 15-Beat Method, and 3 Act Method, and consumed lots of youtube videos and blog articles on the topic. So in the end, my process is a mash-up of all of these haha.
This is a long post, so bear with me! (And feel free to skim!!)
Plotter or Pantser?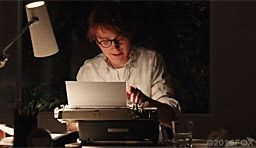 Writers are categorized (loosely) into two camps:
Plotters swear by outlines and character/setting sheets. They don't put a pen to the page unless they have all the details of their novel figured out. They know exactly what will happen in each act, chapter and scene.
Pantsers, on the other hand, don't plan a thing in their novel. They like to start their story with a blank slate, and come up with ideas for scenes and characters as they go along.
There is no right or wrong approach. Everyone has their own creative process. Some writers function better when they have a plan going forward, while others feel like having a rigid plan kills the joy of writing.
I started out as a pantser, but over the years, edged closer and closer to the plotter side of the spectrum. With each novel that I write, I find that I am plotting more and more. However, even when I try my best to plot out my novel, my characters and story always end up having a life of their own. So I guess I am still in the "plantser" category (the best of both worlds!)
Are you a plotter or pantser, or somewhere in between? Let me know!!
Step 1: Summarize the novel in one sentence, then expand into a 5-sentence paragraph.
My initial idea for a novel is usually very, very vague and high-level. I summarize this into one sentence, then expand into 5-sentences:
(I blacked out the last part of my 5-sentence synopsis because… I guess I don't want to spoil you guys? Even though I don't know if this draft of the novel will even see light of day and the plot would have changed a gazillion-fold by the time I finish writing hahaha.)
Note that this is just a very preliminary stab at the plot. Usually what I write at this stage will change a lot as I fine-tune the plot, worldbuilding and characters. As you can see, I don't even have names for my characters yet.
Step 2: Character Sheets
At this point, I start making my character sheets for my main characters and villain. This is a really fun part because I get to experiment with character names. It's also where I start building Pinterest boards and find aesthetics for my characters haha.
My character sheets include traits such as physical description, personality, background, home, family, motivation, conflict, etc. The "Background" section is where I flesh out my character's entire backstory: how their life was like from birth until now.
If you guys are curious about the template that I use for my character sheets, it is heavily adapted from the Snowflake Method. Click here to visit the original website for the Snowflake Method.
Step 3: Worldbuilding!
For me, this step happened concurrently with character sheets (Step 2.) Since my novel takes place in a world that is very different from the one that we live in, it was actually hard to lay out the backstory of my character until I get some worldbuilding done.
The right-hand side contains all the documents that I have in the Worldbuilding section of my Scrivener file. I have descriptions for each of the aspects of my country, such as City and Government, Resources, History, Physical traits, etc. This is also an opportunity to go on Pinterest and find awesome pictures haha.
I am not an expert at Worldbuilding (still a newbie!!!) These are some resources that helped:
Step 4: More plot development using the 15-Beat Method!
Now that I had my main characters and the basic mechanics of my world figured out, it was time to outline what actually happens in the plot. For this step, I used the trusty 15-Beat Method. (Check out my previous blog post about the 15-Beat Method here!)
I like to use a table to summarize the 15-Beat Method. (The first two columns are there to remind me what each beat represents haha.)
Again, I want to give credits to Blake Snyder for the 15-Beat Method. I cannot claim ownership for this process at all!! Click here for a great explanation of the Beat Sheet by Tim Stout.
Step 5: Character sheets for secondary characters
In developing my plot, I also unearthed some secondary and minor characters, so I built character sheets for them as well. I use the same template as for my major characters, although I don't fill out all the sections.
Also, because my MC ends up having a big and convoluted family, to keep track of everyone, I created a family tree:
Are you in need of a family tree? Check out this handy website!!
(This website is created for building actual family trees, but it works really well for fictional families too. It's super user-friendly, free, and you do not have to sign up for an account.)
Step 6: Setting sheets
This is where I get into the real nitty-gritty parts of worldbuilding, where I work out the details for each of the cities that my character will be spending lots of time in.
As you guys can see, I have a rough map of what the city looks like. I also go on Pinterest and find pictures of landscapes/architecture that reminds me of the city. Then there is the long table that I fill out for the physical traits, economics, etc. To be honest this is the most tedious part of the outlining/worldbuilding process and I don't like it too much hahahaa.
I used a random map generator (click here!!) and Paintbrush (Mac app) to create my map.
Step 7: Storyboard
I took each of the 15 "beats" and laid them out in storyboard form. At this point, I divide the beats up into scenes. For example, if it is a long beat, it might require 3 or 4 scenes, while a short beat might be just one scene. I love the storyboard format because it allows me to visualize the story and move scenes around in ways that make more sense.
I used "Group Mode" on Scrivener to view these as storyboards, but I know writers who create a physical storyboard using cue cards or post-it notes!
As you guys might have noticed in the screenshot above, I also divided my story into 3 acts at this point. I also started assigning POVs to different scenes (I set red icons for one POV and blue icons for second POV.)
For each scene, I write a few sentences to summarize what happens, and I stop there. I kind of like letting the scene evolve as I write it, so I don't fuss too much about the details.
And that's it! To be honest, I'm not 100% done outlining yet. I'm still working on setting descriptions for my less important cities (trudging through it since it's my least favourite part LOL) and sorting through the scenes for the latter half of my plot.
Are you doing NaNoWriMo this year? Are you a planner or pantser? Tell me how you prep your novels!
Photo by Dustin Lee on Unsplash
Psst….. On Saturday November 2, 2019, I'll be participating in a 24-hour Write-A-Thon to support the Children's Miracles Network Hospitals. Click here to donate and support the cause!