Hey everyone!
Thank you to Charlotte @ Bewitching Books, Ravenous Reads for this tag! Be sure to check out her post as well 🙂
The Rules:
Link to the creator in your post (Madison's Inkwell)
Link to the person who tagged you
Tag as many people you want
Have fun!
1. What books or series that intimidate you (because of length, density, subject) would feel like an accomplishment to finish? 
ANY book in the classic/literary fiction genre intimidates me. Also, any book that is longer than 600 pages would also made me cower in the corner hahaha. I am pretty impatient and have a short attention span. I love fast paced books… and the types of books that I've listed are (usually) not fast paced.
These days I've been slowly chewing away at East of Eden by John Steinbeck, and it's a HUGE accomplishment that I'm… actually almost done?! :'D Despite everything I just said, I am really enjoying this book and I learn a lot from it.
2. What author would you like to coauthor a book with?
Oh WOW! I get to choose an author to co-write a book!??! HMM…
I would love to co-write a book with Neal Shusterman! I really only recently discovered his Arc of a Scythe series (Scythe & Thunderhead) and fell in love with the story and the characters. I definitely want to delve into how Neal Shusterman comes up with all his ideas and how he plans out his novels! (If I am actually co-authoring a book with him, or any other writer I admire, I would probably be super duper nervous hahahaha….)
3. If you could interview any author for your blog, who would it be? What's one question you would ask?
I've been a big fan of VE Schwab for a long time (longer than I've been blogging!!) so I would love to interview her on this blog. In terms of my question, I'm wondering what was the inspiration for the "A Darker Shade of Magic" series?! In general I am very curious about where people get their ideas and inspiration!
4. As a writer, what genre is out of your comfort zone that you'd like to conquer someday and write within?
This is a tough question! I've written a bit of everything, from YA to adult, from contemporary to fantasy/magic realism to paranormal/horror to sci-fi.
One thing that would be out of my comfort zone would be high fantasy (think Lord of the Rings hahaha.) So far most of my novels have been at least somehow rooted in the modern world, give or take 50 years. However, writing about a setting that is entirely made-up would take an extraordinary amount of imagination and world-building that I haven't tried yet. Maybe this will be my next novel?! XD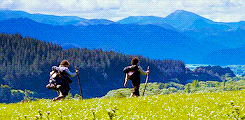 5. What specific edition of a book would you like to own someday? It could be rare, a first edition, an anniversary edition, signed, or one with a cover special to you, etc. 
Like Charlotte, I haven't really thought much about owning a specific edition of a book. I actually don't own many physical copies at all hahaha. I guess in general I love browsing secondhand bookstores and finding beautiful older editions of books that I don't see around anymore. Here is a lovely collection of the Bronte Sisters' works that I found in a thrift store on the West Coast 🙂
6. Are there any books or bookish items that you'd like to collect? 
Not really! I am terrible at collecting XD
7. Name one bookish place you'd like to visit. (Not somewhere you'd like to visit because of a book and not a fictional place within a book. A library, bookstore, etc.)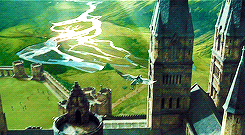 HOGWARTS.
8. Name one bookish event you'd like to attend. (A festival, a signing, a book fair, etc.)
I've heard so many people talk about Bookcon! It seems like THE place for book bloggers and book worms to be! I feel like I really want to experience it one day BUT I would also be super nervous about it hahaha…. It seems like it will be crowded and noisy, and as much as I want to get my books signed and meet my favourite authors in real life, crowds freak me out a little bit?
Alternatively, I would love to attend a small and intimate book-reading or book-signing session by an author that I like 🙂
9. Your WIP is getting published and designing the cover is solely up to you. What does it look like?
Oh gosh! That is like my DREAM to have my WIP published!!
But please don't leave the cover design to me! It's been a good decade since I last touched Photoshop hahahaha. BUT if I were to come up with a few ideas about the cover of my current WIP, Children of the Sun:
Red! Lots of red!
…. maybe some stars? A constellation?
A dark city street with shadowy tall buildings
Since getting published is probably not going to happen in the super near future, I kind of whipped something up in the interim hahaha: (Let me know which one you like better??!)
10. What's one thing you'd like to accomplish within the bookish world? As a writer, reader, blogger, whatever you want.
I would love for people to read my story, not because I ask them to (or make them hahahaha…… because I do that to my friends and loved ones) but because they WANT to.
I tag these awesome people 🙂
Sieran @ A Wild and Stormy Mind
Marie @ Drizzle & Hurricane Books
Of course please feel free to do this tag even if I haven't tagged you!!
Photo by Matt Riches on Unsplash
What types of books intimidate you? Have you attended a bookish event? How would you answer some of these questions?