Hello everyone!
So… apparently 2019 is half over?! What?! I am in denial, my friends. (Tell me that I am not the only one!!) This was a whirlwind of a month. To be honest I am not sure where the time has gone.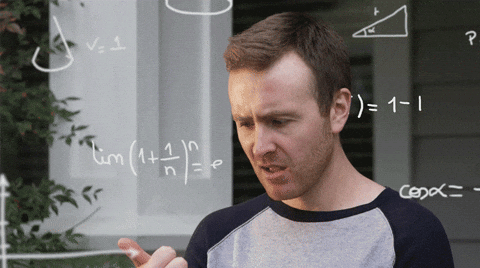 Life was business as usual. Work was steady though I never had to stay too late to finish things up. Also! I……. got published??!!!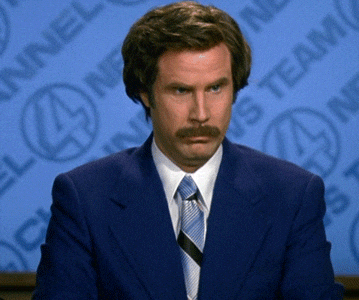 Hahahhahahaa…… False alarm guys, for those of you knew that I've been wanting to be a published writer for the longest time. My publication is in a scientific journal. Definitely not as exciting! For those of you who are interested in paediatric Crohn's disease, you can find my article in CJHP Vol 72, No 3 (2019):
On a more exciting note, I made some progress on my wedding dress. My goal for June was to finish my wedding dress. Although I am not quite there yet, I am very close. It is a matter of sewing the inside lining, finishing the hems, etc. I will post a wedding dress update hopefully soon, but here is a sneak peak.
The wedding date is creeping up with exactly 1 month and 24 days to go!??! What?! Last I remembered, I still had half a year hahaha. YIKES! EPIC FREAK OUT MODE! This gif sums up my mental state of affairs these days :')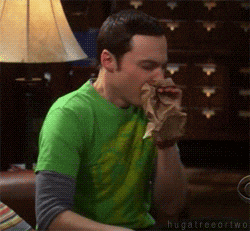 Anyone with wedding tips? Or general stress-reduction strategies??! Please send them my way.
It's been a good reading month for me. I haven't read that many books. In fact I've just been reading two:
I finished up On the Come Up this month. It was an amazing book. Loved the focus on characters and family relationships and friendships. Even though Bree is very different from me, she was inspiring because she never gave up on her dream. Check out my review here.
I've told you guys about how I've always been fearful/intimidated by classics. East of Eden is a book that was recommended to me again and again. I knew it was going to be a good book and yet I couldn't bring myself to pick it up all these days. This month I finally decided to take the plunge. It's definitely different from my usual cup of tea (ie. YA sci-fi/contemporary/fantasy) but… I'm liking it. The characters are multi-dimensional and real, and I can't bring myself to dislike anyone in this book. Full review coming up.
Current YARC Progress: 4 books out of 10
Uh. I did not make any progress on YARC this month (oops.) However I am totally going to make up for it this upcoming month since I will be taking part in the Jade War blog tour, which I am really excited about. This means that I will be reading Jade City, which I've heard so many great things about, followed by its sequel Jade War 🙂
June was a good writing month, although my pace has dropped since May. In May, I wrote about 36K, while in June I've written about 27K. My goal for June was to finish my novel by the end of the month, but although I was close, I didn't get there yet.
And you know what? That's okay. Life happens. And this past month was definitely crammed with life-stuff. Rather than beating myself up for not writing as much as I could have, I decided to be happy with what I've done. I had only so many hours in a day and I've used them in a way that I don't regret. I spent as much time on writing as I could have, and so I did the best that I could.
I also realized that as I come closer to the end of my novel, my writing speed actually went down. I am spending more time deliberating over what happens in each scene, what the characters say and do, and that's okay. Forcing myself to write fast only landed me in writing blocks haha (which is exactly what happened after Nanowrimo last year!!) so I am happy with my writing speed, as long as I am making progress one step at a time.
Anyway! I am really excited for July since……. guess what it is time for?! Yes! It's Camp Nanowrimo again!! (so much deja vu haha since it feels like such a short time since the last Camp Nano back in April.)
This time I have a much more conservative goal of 15K words. I am for SURE going to finish Children of the Sun, since I anticipate having just 5-10K more to go. For the rest of the month I am really looking forward to doing some writing exercises to practice certain skills where I am lacking, for example, writing setting descriptions or action scenes. I am very excited for this. Since I started writing again, I've always been outlining, writing, or editing one novel or another. The last time I took a step back to work on writing technique was, well…….. never lol.
June was a fun month on the blog!! I wrapped up my first-ever giveaway!! To be honest, I was SO nervous going into this since I haven't ever done a book giveaway before, and I worried if anyone was going to sign up haha. I was SO happy that so many people participated!!
Related to that, I collected all the fun and awesome Q&A questions from you guys. It is always a blast to write out my answers haha. (I felt like a famous person answering interview questions hahaha.) Check out my posts here in case you have missed them!!
Discussion Post Challenge: 7 out of 12!! (Yay!! More than halfway there!!)
For my discussion post this month, I wrote about reading goals, which is a topic that is near and dear to my heart at the moment:
Here are some of the blog posts that I really enjoyed this month! The blogosphere is like an ocean that is so huge and vast, and there is always more that I want to read and explore. If you have a post that you are proud of from this month, link it below and I'd be glad to have a read 🙂
Katie @ Never Not Reading talked about how she was "reading wrong." This was a fascinating post that opened my eyes. Apparently I was reading wrong too??!
Lashaan @ Bookidote wrote about proper blog etiquette! I feel like there are so many unwritten rules about what to do and what not to do, and it is really awesome that Lashaan put these into words.
ML Davis @ Uninspired Writers gave some tips about remaining loyal to our novel when other ideas come to mind. Really loved this post, since I struggle with this every single novel that I write hahaha.
Darina @ Facing the Story celebrated her 1st blogiversary!!
The Orang-utan Librarian talked about audiobooks!! I am such a big audiobook fan (please, don't throw tomatoes at me, but……. I actually listen to more books than I read them.)
Fictionally Sam gave tips about how to handle the dreaded reading slump.
Steph @ Steph's Story Space finished her second novel!! What an accomplishment!!
July is going to be a huge month for me, because there is going to be the Jade War blog tour, and Camp Nanowrimo, and it's going to be the month before the wedding, and AHH. Anyway here are my July goals 🙂
Read more YARC books! (Including Jade City and Jade War!)
Participate in Camp Nanowrimo!
Finish Children of the Sun! & do some miscellaneous writing exercises 🙂
One more discussion post.
Finish that wedding dress & veil! & made a blog post about it!
Tee up other wedding planning madness *faints*
How was your June? What was your favourite book this month? How do you feel about classics literature (are you as intimidated as I am!??!) Are you doing Camp Nano? Any wedding/stress relief tips!??!