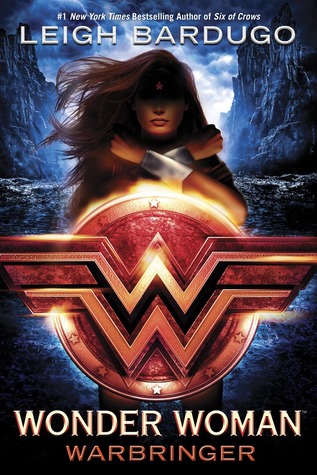 Daughter of immortals.
Princess Diana longs to prove herself to her legendary warrior sisters. But when the opportunity finally comes, she throws away her chance at glory and breaks Amazon law—risking exile—to save a mortal. Diana will soon learn that she has rescued no ordinary girl, and that with this single brave act, she may have doomed the world.
Daughter of death.
Alia Keralis just wanted to escape her overprotective brother with a semester at sea. She doesn't know she is being hunted by people who think her very existence could spark a world war. When a bomb detonates aboard her ship, Alia is rescued by a mysterious girl of extraordinary strength and forced to confront a horrible truth: Alia is a Warbringer—a direct descendant of the infamous Helen of Troy, fated to bring about an age of bloodshed and misery.
Together.
Two girls will face an army of enemies—mortal and divine—determined to either destroy or possess the Warbringer. Tested beyond the bounds of their abilities, Diana and Alia must find a way to unleash hidden strengths and forge an unlikely alliance. Because if they have any hope of saving both their worlds, they will have to stand side by side against the tide of war.
Diana was born an Amazon, daughter of Queen Hippolyta. Unlike the others, Diana never saw the world of mortals and men. Although she grew up alongside her sisters, she never had to prove her worth in battle, and so she didn't feel like one of them.
Alia felt stifled under the watchful, overprotective eyes of her brother Jason, who never allowed her to travel on her own for fear that she would be kidnapped. Because of this Alia needed to explore the world, to do something on her own, and so she embarked on an overseas internship. However, an unfortunate shipwreck occurred which brought Alia to Diana.
Alia and Diana were both strong, empowering female protagonists. Although they were born under different circumstances- Alia as the daughter of world-renowned researchers and Diana as an Amazon, the two girls soon found common ground. They were both different from the others around them; both had something to prove. Throughout their journey, they looked out for each other. I cared for both Alia and Diana. Throughout the novel I wanted both to succeed.
I liked the secondary characters in this novel, including the somber and serious Jason to the gregarious and humorous Theo and Nym. Each had their own unique personalities and quirks that kept the story interesting.
I liked the villain in this novel (no spoilers here)– they were certainly villainous though they were convinced that their goal was for the best of mankind. I found it a bit difficult to wrap my head around the rationale behind the villain's wrongdoing. They could have been a bit more convincing in my opinion.
In the opening scene of the novel, Diana participated in a race with the determination to win first place and prove herself in front of her Amazon sisters. When she stumbled upon a shipwreck and the unconscious Alia, Diana had a difficult choice to make. As an Amazon, she was not supposed to interfere with the livelihood of humans, however she couldn't leave Alia to die. In a turn of events, Diana joined forces with Alia to bring an end to the prophecy of the Warbringer, with the goal of preventing a future war.
Usually I am not a big fan of superhero stories, however I enjoyed this one. The plot was fast-paced and had several plot twists that caught me off guard in a good way. Even though this was not a short novel, it felt like a quick read.
Leigh Bardugo's writing shined in this novel. The descriptions were vivid without being drawn out. The dialogues were interesting and witty, able to bring out the characters' personalities and the dynamics between them. I enjoyed the world in this novel, which was a fusion of the mystical world of Greek mythology and modern-day Earth.
I experienced the entirety of the book in the audiobook format, which I enjoyed. The narrator did an excellent job of portraying Diana and Alia's roles, as well as each of the side characters.
I loved the characters, the fast-pacing and the plot twists in this superhero novel by Leigh Bardugo. Whether or not you are a superhero fan, Wonder Woman might be worth a read!
4/5 sea turtles!
Are you a fan of superhero movies/books/comics? Who is your favourite superhero?