Hey everyone!
I saw this post by Nyx @ Drizzle & Hurricane Books about her ideal reading nook, which got me thinking about mine. As you guys might know, I am quite minimal and practical when it comes to books: I don't have many physical books, and I end up reading wherever and whenever.
I mean right now this is kind of what my reading nook is like, simply because I don't have the time and the energy to do anything about it haha (it's kind of sad):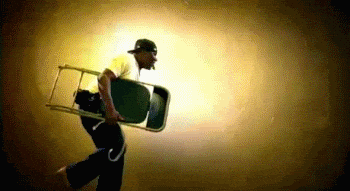 HOWEVER I love the idea of this post because it's gotten me thinking about what my reading nook could be!
(Note: Pictures are courtesy of Pinterest, other than the photos of my dogs, which are actually my dogs hahaha :') )
SETTING THE MOOD
Pick the colors and lighting for your reading corner!
I LOVE the rustic and minimalist look, with wide open spaces and lots of natural light. I really like this wooden spiral staircase, those huge ceiling-height windows, and the industrial-inspired lighting contraption.
STORE YOUR BOOKS
Where will your books live?
Right now 99% of my books are digital (eBooks or audiobooks), and I am happy with that! However, I keep a very small selection of physical copies of books that I love. I would love to have a bookshelf that mixes and matches books with other beautiful items such as plants, framed photos, and other things that make me happy 🙂
ARRANGING AND DISPLAYING
How will you organize all your books?
However much I love bookshelves that are organized by colour, I am more of a practical type of gal, so I would organize my books by author haha. This way an entire series would be grouped together, and I can always find a book that I am looking for.
GET COMFORTABLE
Where are you sitting or laying while you do all that reading?
I need a soft and comfy place to curl up when I read haha, therefore a sofa is a MUST. Some plushy cushions and blankets would be nice too! Would it be too much to ask for a fireplace and a warm pair of reading socks?!
CURL UP WITH
Who or what are you snuggling with?
My lovely doggies (Zander and Charles!) ❤
COOKIES, ANYONE?
Are you eating or drinking anything? (We're not judging)
I love tea and can't live without it. Sipping my favourite tea while curling up with a good book is THE DREAM :')
I think this was initially a tag, but I won't tag anyone here since I wasn't tagged myself. However if you want to do this tag, please go ahead! I would love to hear about your ideal reading nook!
What would your ideal reading nook look like? How do you organize your bookshelf? What is your go-to food/drink while reading?