Hey everyone!
Needless to say, I was SO pumped to read this collaboration by Becky Albertalli and Adam Silvera, who are two of my favourite authors in YA. It turned out that this was such a fun and adorable read- I inhaled the book in just a few days. I am excited to share this spoiler-free review with you guys!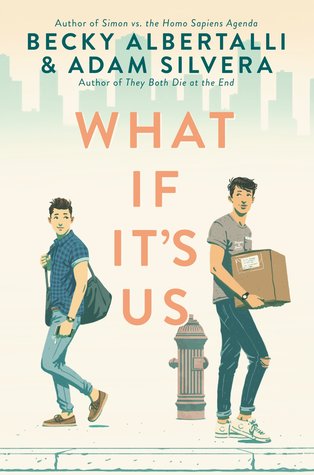 Arthur is only in New York for the summer, but if Broadway has taught him anything, it's that the universe can deliver a showstopping romance when you least expect it.
Ben thinks the universe needs to mind its business. If the universe had his back, he wouldn't be on his way to the post office carrying a box of his ex-boyfriend's things.
But when Arthur and Ben meet-cute at the post office, what exactly does the universe have in store for them?
Maybe nothing. After all, they get separated. Maybe everything. After all, they get reunited. But what if they can't quite nail a first date . . . or a second first date . . . or a third? What if Arthur tries too hard to make it work . . . and Ben doesn't try hard enough? What if life really isn't like a Broadway play?
But what if it is?
The Characters
I loved Ben and Arthur and wanted so much for their relationship to succeed. Arthur was a summer intern at his Mom's law firm in New York. He had great marks and was aiming for Yale University. He never had a relationship before, and he was a firm believer in love at first sight. When he met Ben at a post office, he was certain that he wanted to get to know Ben better, though he didn't get Ben's number. Ben just got out of a relationship with his ex-boyfriend, Hudson, and was going to spend the summer in summer school to catch up on a failed class. Unlike the bright-eyed and eager Arthur, Ben had a jaded and skeptical view of relationships. Because of his past failed relationship, Ben was convinced that all good things came to an end eventually. Unlike Arthur who gave everything his 100%, Ben would rather not try hard at all.
Other than the MCs, we also have a great cast of secondary characters, from Ben's flirtatious best friend Dylan, to Arthur's friends from Georgia. I loved that these friend circles had their own history and their own dynamics, though we were only seeing the tip of the iceberg in this novel. I also loved how Ben and Arthur's families were portrayed- They were loving and caring, though not without their problems.
The Plot
In What If It's Us, Ben and Arthur's relationship got off to a stumbling start as they learned more about each other. The plot was somewhat predictable, although the characters and the writing had me hooked and kept me turning the pages. I appreciated the events in this novel were realistic, and though it was sweet and cute, it was not over-the-top.
I also enjoyed the subplots in this novel. Although the story mainly focused on Ben and Arthur's relationship, we were also able to see developments in Ben and Arthur's friendships as well. I loved that their relationship didn't exist in a silo but that they were surrounded by a network of friends and family.
The Writing
This novel was a collaboration between two authors, Becky Albertalli writing Arthur's POV and Adam Silvera writing Ben's POV. While Ben and Arthur each had a distinct voice, I thought that their writing styles complemented each others' well.
I loved that the writing style was engaging, funny and easy to read. The dialogues flowed naturally.
The Bottom Line: 4/5 stars!
Overall, I enjoyed reading What If It's Us. It was a sweet, adorable, and addictive YA romance with lovable characters and great character chemistry.
Do you have a favourite YA contemporary book? Have you read this collaboration by Becky Albertalli and Adam Silvera? If so, what are your thoughts?