Hello everyone!
How was your weekend? Mine was an eventful one: My friend has a crush on my other friend (a feeling which I suspect is reciprocated), so naturally I set them up on a subtle lunch date. It went well 🙂
Psst… If I never make it as a writer, maybe I can be a match-maker 😉
Today's topic is also about love, that is, the love we have for reading. Marie @ Drizzle and Hurricane Books wrote an amazing blog post titled "Book bloggers: do we still love reading?" This blog post made me reflect about how my relationship with books changed as I became a book blogger: I used to be excited about opening each and every book. And now, well… I'm kind of not.
Then I realized I'm kind of in a mini-reading slump. It was "mini" in the sense that I continued to read at a pretty fast pace for me (about 6-7 books per month). It was a "slump" in the sense that I didn't enjoy reading as much as I used to: though I couldn't find flaws in a book I read, I also wasn't moved by the stories or the characters.
Here are a few things I've brainstormed about how to be excited about reading again. (Spoiler alert: It is starting to help!) 
1. Try a different genre!
Do you have a favourite genre? For me, it is contemporary YA. But recently, I read so many contemporary YA books that… well, it's starting to bore me. When I began reading books from very different genres (When Breath Becomes Air, a memoir, and Two by Two, an adult romance), it is like a breath of fresh air. My next book is a YA science fiction (Illuminae, a YA science fiction), which I am so, so excited about.
Reading is like eating: No matter how much you like a certain dish, it's not as tasty when you eat it all the time. Maybe it is time to try something new!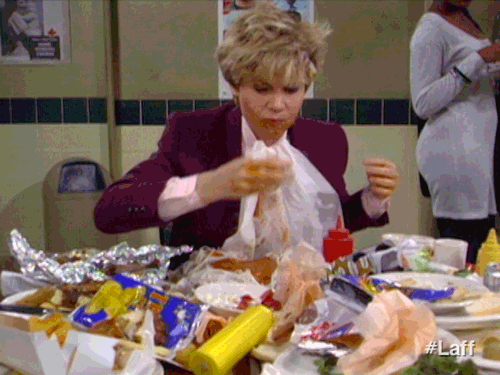 2. Try a different medium!
What is your preferred medium for reading? Do you like reading books in print? Or do you prefer audiobooks? Are you a graphic novel fan? My reading diet consists 90% of audiobooks, because I simply don't have time to, well, actually read. Then, one day, I set aside some time to sit down and flip open an actual, physical, paper book (Two by Two). It was like magic.
Are you an audiobook fan like me? Maybe it's time to read an actual book again! Have you always loved reading physical books? Maybe it is time to give audiobooks a chance!
3. Find a reading buddy.
If you find it motivating to read the same book with a buddy or a group, maybe this is the option for you! There are plenty of reading groups on Goodreads (such as Fantasy Buddy Reads or The YA Book Club). Alternatively you can find a buddy who wants to read the same book as you!
To be honest, although I am part of some reading groups, I haven't actually actively participated in one. I am kind of a rogue agent :') What is your experience with buddy reading or reading groups?
4. Read what you want.
As a book blogger, I find myself gravitating towards new releases, books that people like to read about and talk about. I don't request ARCs, but I can imagine that if I did, I would feel the pressure to read and review them.
Maybe it's time to read that book that we've always wanted to read, even if it is not a New & Shiny Book, even if it's not popular, even if it's not even on our TBR.
5. Read when you want.
I am terribly guilty of forcing myself to read. Because life is so busy, I feel that I have to use every spare moment to read or write. Then I think: Maybe I will enjoy books more when I only read when I want to read.
Maybe today, you want to read to binge-read an entire book! Or just a chapter! Or just a paragraph! Or you just wanna chillax! It's all okay!
Do you like setting people up (like me)? Have you experienced a reading slump – if so, what helped you get out of it? Do you think you will ever get tired of reading your favourite genre? What do you think about buddy reading and reading groups?